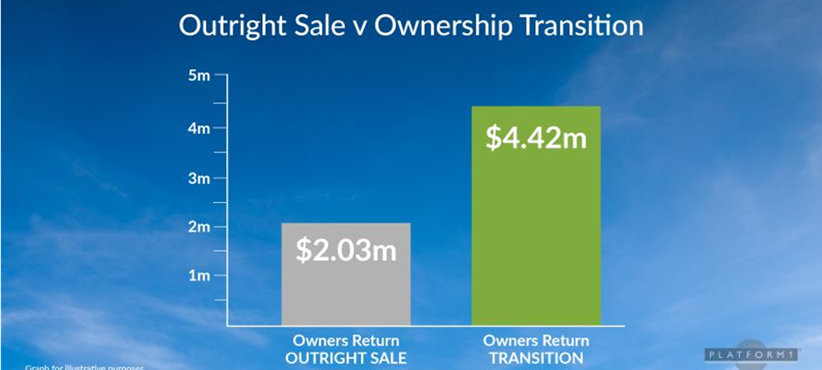 Ownership Transition vs Outright Sale ?
It was a challenging 2020 for many business owners so what are your goals for 2021? Whether your business has been impacted positively or negatively your business succession should be a priority particularly if you are in the baby-boomer demographic and looking for a change of lifestyle.
- You could, of course, look to sell your business outright, however:

- Will you extract maximum value? If your business has growth potential what are you leaving on the table?
- Are there buyers out there who will buy 100 % of your business now?
- What will you do with your time and where will you get a better return than your current business provides?
- There are parts of the business you really enjoy so why give that up?
What if we told you that you could scale back the amount of time you spend working in your business while continuing to draw an income? And... eventually walking away altogether, with a business that is worth much more than it is today?
Getting onboard a talented Business Partner who buys you out over a timeframe of your choosing can help you achieve both your lifestyle and wealth goals.
The example photo heading this article shows the potential financial return for a business owner selling down 25% a year over 4 years with the business growing 15% year on year. The business owner in this example has doubled the financial return than if they had sold outright.
The reason this can be achieved is:
The new person has the hunger you had 10 years ago and can work with you to drive the business further
You keep getting dividends based on your shareholding while working less in the business
Capital payments to you are higher as the business is re-valued each time equity transacts.

Benefits for an owner include:
- Stepping back gradually and focusing on other interests, while making some cash available
- Working less and only on the parts of the business you enjoy
- Optimising the value of the business while reducing risk
- Turning the business from a short-term asset to exit, into a profitable medium or long-term investment
There is a growing pool of talented people with capital looking for opportunities to buy into a business over time. The key is to access the right people and have a structured plan and governance to ensure the ownership transition works effectively to deliver you wealth and a better lifestyle.
Mike Warmington is a Director of Platform 1 NZ Ltd who specialise in using executive search techniques to find people with capability and equity for SME business owners wanting to transition.  
www.platform1.co.nz